Okay, I have a problem.
I just can't stop loving things.
For instance: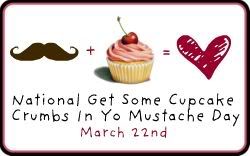 Um, yeah. This is being put on by Nichelle and Elise, some fabulous Bloggy BFFs.
I'm gonna bake more cupcakes than I know what to do with.
Some more lovable things:
This 8x10 print from letterhappy. I would totally put this in Little Bear's room, even though his theme is forest animals. It's so simple, but so stinkin' cute. Yup. :]
This upcycled branch photo holder from Homework. I'm totally gonna copy her idea. It's just too cute not to. l+t carved in the heart would totally finish it off, and give it that innocent love-type feel….or something like that. I don't know. It's three a.m. It made sense in my brain.
The Scarlett Raven dress from Shabby Apple. My amazingly wonderful husband picked it out, and I'm gonna get it either next payday or next month.
I mentioned in this post that I wasn't sure if I was going to keep the first Shabby Apple dress I bought.
Well, I got it today, and I immediately tried it on.
And, of course I snapped a picture and posted it to Facebook.
See that comment right there? Yeah. My husband yelled at me to keep it.
I am seriously in lurve with this mirror from Bella's Attic Treasures. I have been looking for a gorgeous vintage mirror for my bedroom, and, if the husband lets me…I may end up getting this one… *Insert winky face here*
I can definitely tell you that this will not be my last LOVE post this week.
Ciao for now!
<3